Matt Gettig Continues to Catch Lightning in a Bottle with Lightning Mini Golf
by Jonson Kuhn – North Forty News – Feb 8, 2023
Having started his Lightning Mini Golf project back in the summer of 2021 as a means of offering Fort Collins residents a way to fight the COVID blues, Matt Gettig has been busy installing one mini golf course around town after another and he's far from finished.
If you've ever taken a stroll around Old Town, it's impossible for you to have not seen his masterpieces peppered throughout the neighborhood. All featuring various themes ranging from aliens to dinosaurs to pirate ships and more, Matt has continued to work diligently to provide the community with a fun and free way to pass the time.
Check out the entire article here
May 19, 2022 from 99.9 The Point
Check out the article on 99.9 The Point: Lightning Mini Golf is Free and It's Genius
What is Lightning Mini Golf?
Lightning Mini Golf is a collection of small (usually one hole) miniature golf courses that are built on private land (often between the sidewalk and the street) but are 100% free for anyone to play and generally available at all hours, all days and all seasons.
Lightning Mini Golf was created to give people something free, fun and different to do walking around town.
A QR code can be found at the courses to donate to the project. Donations support construction and maintenance of the courses, and ALL additional funds will be donated to charity.
Right now that charity is the Animal Friends Alliance.
Where are these courses?
Right now, Lightning Mini Golf is just in its birth town, Fort Collins, Colorado at these addresses:
How can I set up a course?
So you want to host a course near Fort Collins? Or start more in your town? Great! Contact us.
How can I help?
Who is behind this?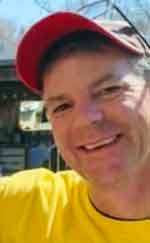 Hi! I'm Matt. For years I've been doing landscaping/irrigation and custom lighting. One day I decided to make the space between my sidewalk and the street a landscaped and night lit one hole golf course.
I wanted it to be absolutely free and give people something fun to do walking around town.
What started on a whim has gained enough traction that I decided to make it official and see if this completely free new fun project can also help fundraise for good causes.
Putting the "FUN" back in "FUNDRAISING"